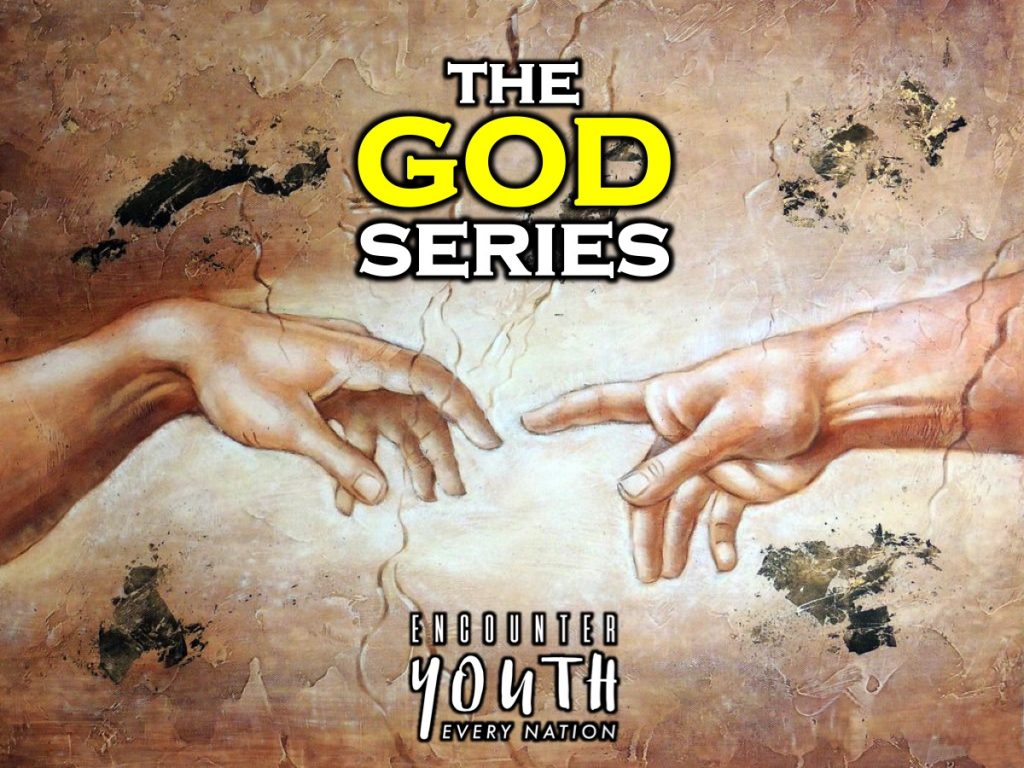 On Sunday morning we launched a new sermon series – as we normally do in our Youth Ministry at the start of each new term. It is called The God Series and is designed to answer the many questions that we are hearing raised by high schoolers about God – questions such as, Does God exist? Does God Hear? Does God Care? Does God Relate? Does God Help and Does God Restore? Although not my point in this blog post, it is worth mentioning that when our communication is designed to address real questions that high schoolers are asking, there is a much greater chance that they will show up and be engaged in the learning environment.
Of course, that presupposes that when they show up, we don't bore them to death with a monologue that is designed to tell them what they must know and believe. And while there may be a place to do that (not the boring part because according to Jim Rayburn, the founder of Young Life: "it is a sin to bore a kid!") it is so much better when we preach or communicate in a way that is designed to ensure engagement and facilitate interaction in the process.  That after all was the topic of my last blog post so let's move on…
One of the things we have done this term to ensure engagement takes place during the time set aside for the Word part of our service (we have 3 morning youth services and have 30 minutes to share the Word at each service after the Worship, Welcome, Announcements and Offering message), is to create a fresh structure where each session has 3 parts to it (each roughly 10 minutes in length): Express, Explore and Experience. As I describe each part of the service I will use an example from the first week in our series so you can see exactly what takes place in each part of the teaching experience (the theme was "Does God Exist?" and you can listen to the audio of the session using this link).
Part 1: Express: Questions are used to get youth expressing what they know and believe about the topic in small groups. For some time now, we have seated 5 to 7 high schoolers around a table and each table has either a high school leader or young adult leader (or both) seated among the youth. Their responsibility is to ensure that high schoolers are engaged in the learning process and contribute as much as possible. We seldom if ever have discipline issues using this format and if we ensure high schoolers are involved in the learning process there is almost never a moment when someone needs to be singled out for being disruptive – plus people learn best when they are involved in the learning process.
An Example: Each person in the group was asked to share how they would answer a question (How do you know God exists?) received from a friend who does not believe the Bible. They were given a handout (a mostly blank page with the a title printed on the top of the page: "Evidence That God Exists") and their task was to come up with a list of evidences for the existence of God. This exercise took roughly 7 minutes and I asked each group to send one person to the microphone to share their top evidence for the existence of God. Here is a photo taken as high schoolers were engage in this part of the session: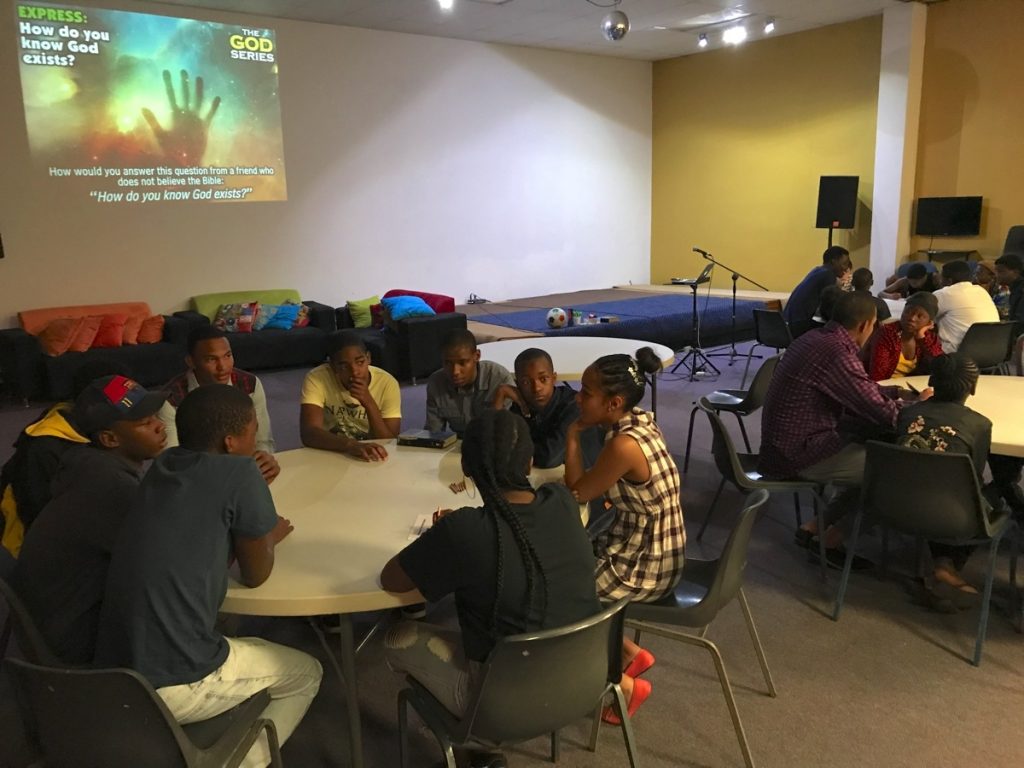 Here is a photo of some of the completed handout sheets that groups completed: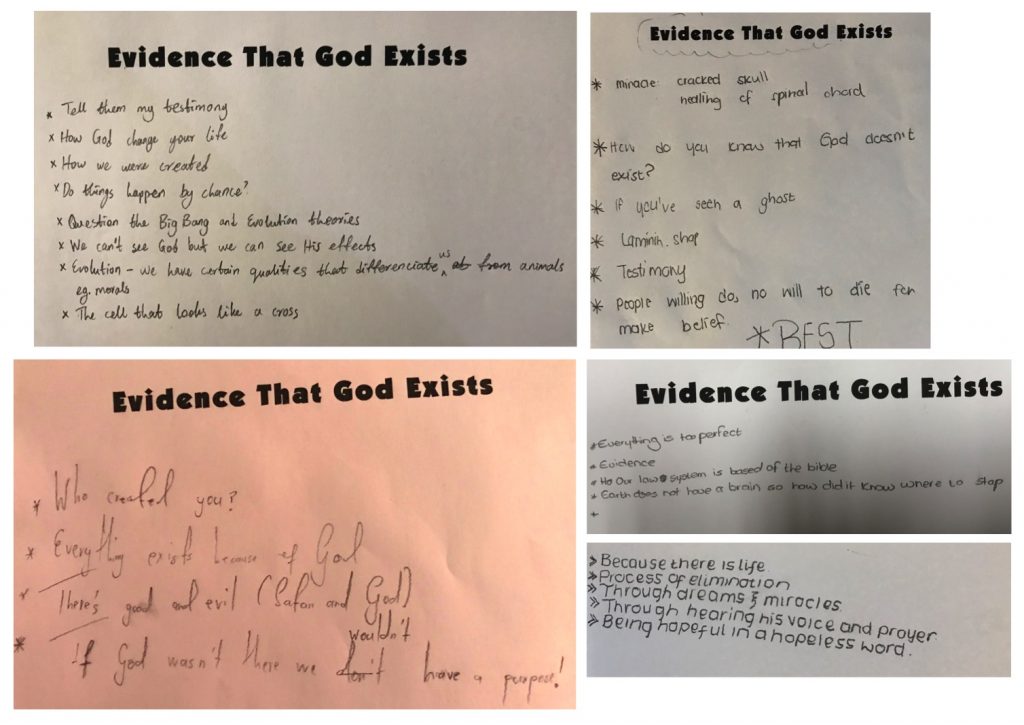 evidences that And here is a photo taken as one of the youth were giving feedback on behalf of their table: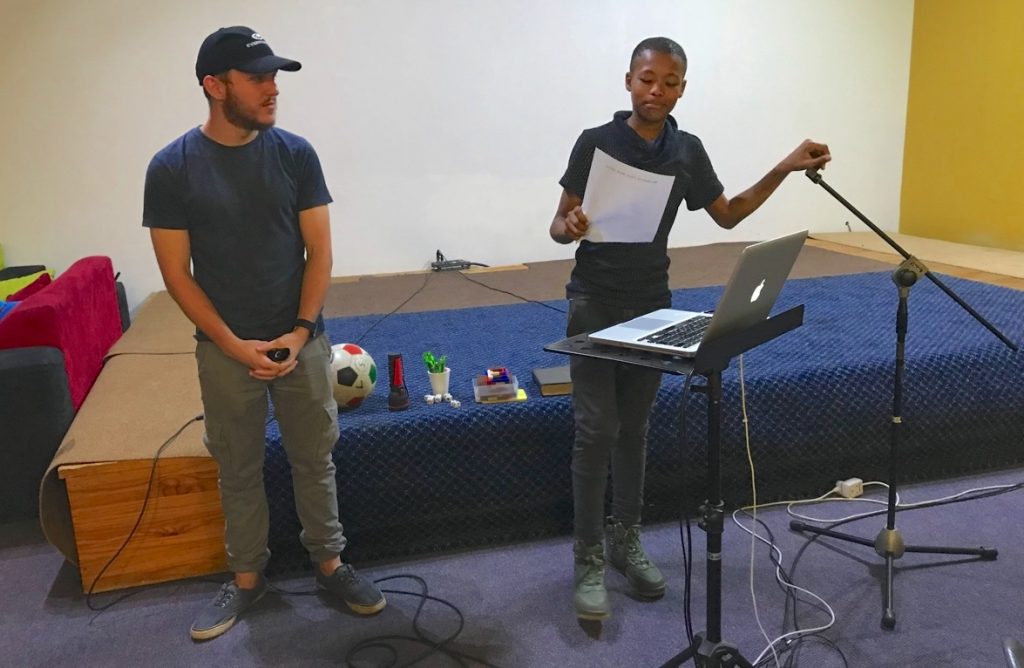 Part 2: Explore: The second part of our session involves the facilitator exploring the topic (using Scripture, media, video, stories, etc) to bring new insights or reminders of truth to the topic.
An Example: In this session we explored some of the main arguments that have been put forward for the existence of God without using the Bible. Here are some of the main evidence that I presented: (1) Cosmology, (2) Design (we discussed how the Universe is Fine-Tuned and showed a great video from this link); (3) Morality, (4) Experience and (5) Scripture (not Bible verses but the creation and composition of the book itself). Here is a photo taken in our third service where our Friday night event leader, Asher Pardey, was the one facilitating the session: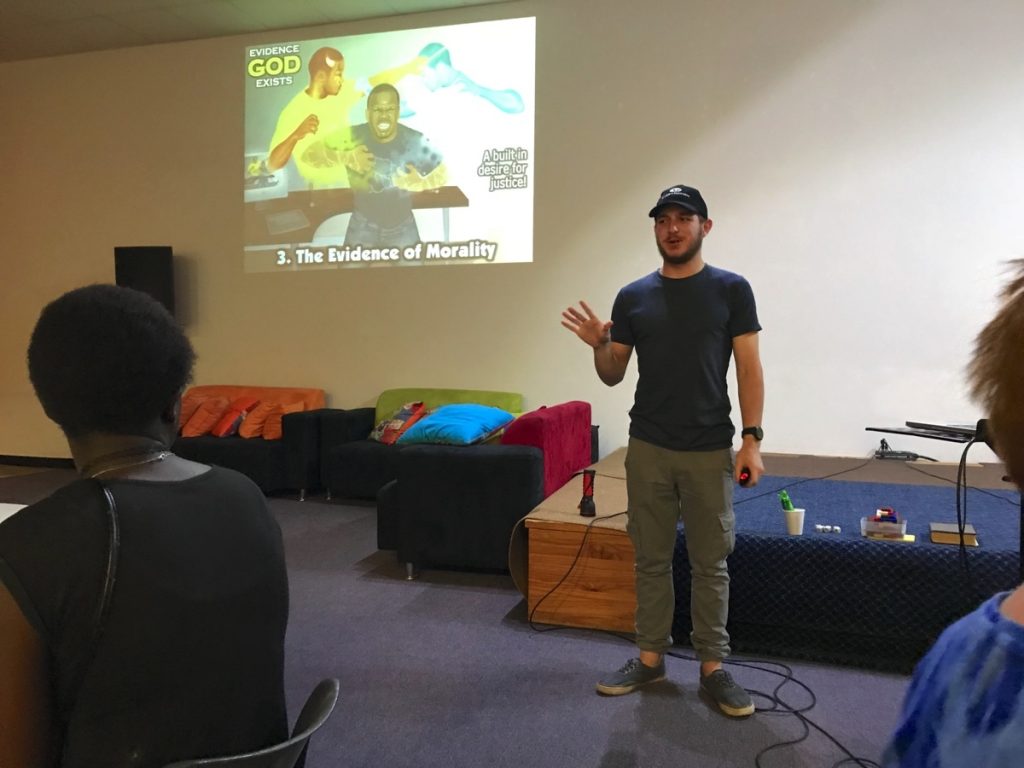 There were also numerous Illustration used throughout the teaching with some activities taking place at the tables. Here is a photo of some of objects that we used to help illustrate various points:

Part 3: Experience: In the third part of the session the facilitator gets youth to internalise what they have learnt through an interactive experience – this could be a small group task, or a personal time of reflection, or a plan of action to implement what they have learnt.
An Example: High schoolers were each given a pen and writing paper and an envelope and they were asked to write a letter to a friend who does not believe in God in which they explain to them the reasons why they believe God exists. They were asked to make it personal and include illustrations or stories. They were challenged to actually give the letter to the person when they next saw them. Here is a photo of high schoolers engaged in writing the letter to their friend: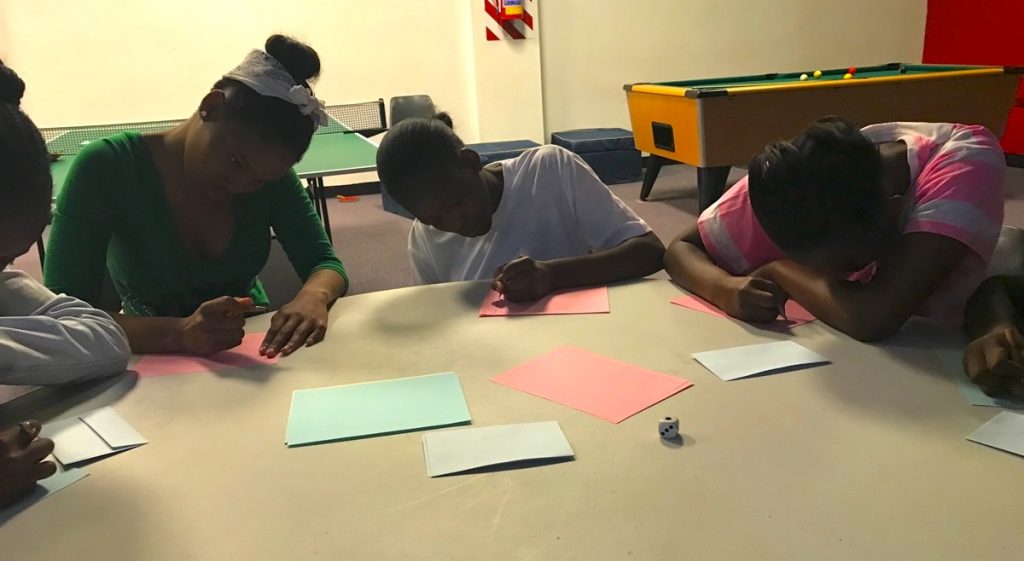 You can download the PowerPoint that was used in the session using this link.
I am sure you may be wondering whether I believe that one cannot preach in the stand-and-deliver style that we were exposed to growing up in churches – or even the style that is currently mostly used in the adult church – and I guess my reply would be: Sure you can! But if you truly want to engage high schoolers and ensure that you involve them in the learning process and have them walk away established and equipped to be able to live the message, then I would propose that is a better way to approach preaching to high schoolers. May God help you take your communication to the next level!